The total training course time is more than 4,500 hours.
The training within the school
comprises minimum 2,900 hours of theoretical and practical lessons.
Nature and ethics of the profession, legal and political conditions
Nature, ethics and history of the profession
The health care system in the Federal Republic of Germany and international cooperation in health care
Current issues in the fields of professional and health care policies
Health programmes of international organisations, in particular the World Health Organization and Council of Europe
Labour and professional regulations relevant for carrying out the profession
Accident prevention, legal conditions concerning maternity leave, occupational safety, youth welfare, youth protection
Introduction to laws concerning hospitals, epidemics, radiation protection, medication and drugs
Regulations under criminal, civil and public law relevant for carrying out the profession, legal status of patients and guardians
Social policy including an introduction into social security systems (social insurance, social benefits, practical support offered by welfare states)
The basis of public law and order in the Federal Republic of Germany
Anatomy
General anatomy + lessons using anatomical preparations at the Strasbourg Anatomical Institute
Anatomical nomenclature and definitions
Axes, planes, orientation system
General cytology
General histology
The structure of the skeletal system and general introduction to joints
Functional anatomy of the locomotor system.
General functional aspects of the organs involved in movement
Palpation of the organs involved in movement
Specific functional aspects of the shoulder girdle and upper extremities
Specific functional aspects of the pelvis and lower extremities
Specific functional aspects of the spine and head
Anatomy of the internal organs
Overview of the internal organs
Cardiovascular system
Respirationssystem
Blood and defence system
Digestive system
Genitourinary system
Endocrine system
Anatomy of the nervous system and the sensory organs
Introduction to the nervous system
Macroscopic anatomy of the nervous system
Central nervous system
Peripheral nervous system
Vegetative nervous system
Functional anatomy of the nervous system
Anatomy of the sensory organs and the skin
Physiology
Basics of cell physiology
Physiology of the nervous and sensory systems
Central nervous system
Vegetative nervous system
Motor systems
General sensory physiology
Somatovisceral sensory system
Balance system
Nociception and pain
Physiology of the muscles
Skeletal muscles
Molecular mechanisms of contraction
Regulation of muscle contractions
Muscle mechanics
Muscle energetics
Smooth muscle tissue
Physiology of the heart, blood and vessels
Cardiac excitation, cardiac mechanics and cardiac energetics
Functions, volume and composition of the blood
Physiological mechanisms of the immune response
Arterial, venous and lymphatic system
Regulation of the entire circulatory system
Pulmonary and portal circulation
Physiology of the respiratory system
Ventilation and mechanics of breathing
Pulmonary gas exchange
Transport of respiratory gases
Cellular respiration
Physiology of the digestive, genitourinary, metabolic and endocrine systems
Interaction between the systems
General pathology
Cell pathology 
Disease and causes of disease
Progression and symptoms of disease
Inflammation and oedemas
Degenerative changes
Growth and disturbance of growth, benign and malignant neoplasms
Disturbance of immune responses
Local and general circulatory disturbances, bleeding
Disruption of gas exchange and oxygen supply
Specialist pathology
Internal medicine
Orthopaedics/traumatology
Surgery/traumatology
Neurology
Psychiatry
Gynaecology and obstetrics
Paediatrics
Dermatology
Geriatrics
Rheumatology
Occupational medicine
Sports medicine
Hygiene
General hygiene and environmental protection
Personal hygiene
Bacteriology, virology and parasitology
Preventing and controlling infection
Disinfection, sterilisation
Water hygiene
First aid and bandaging techniques
General emergency procedures
First aid for injuries
Haemostasis and wound dressing
Dealing with shock and resuscitation
Treatment of broken bones
Transport of injured patients
Emergency procedures for accidents in the workplace
Bandaging techniques
Students receive a certificate proving their first aid and cardiopulmonary resuscitation skills
Applied physics and biomechanics
Basics of physics, mechanics and mathematics
Principles of mechanical equilibrium and calculation of joint strength
Kinematics of joints in the human body
Static and dynamic determination of joint strength
Biomechanics of muscles, tendons and bones
Biomechanics and ergonomy
Writing using specialist language
Presentations and discussions, introduction to academic work, documentation
Creating spoken and written reports
Using and evaluating German and foreign-language specialist literature
Introduction to specialist terminology
Psychology / pedagogy / sociology
Psychology
Individuals as single beings in which body and mind interact as one
The therapist's task of patient management, introduction to personality psychology
Psychological problems of specific groups of patients, in particular patients with acute or chronic diseases, those with an unfavourable prognosis, children, people with mental health problems, patients with age-related diseases and the disabled
Introduction to group dynamics in treatment processes
Conversational skills, supervision
Pedagogy
Basics of pedagogy
Introduction to special needs education
Sociology
Basics of sociology
Social context – experiences of living with a disease
Social status – influence on the progression of the disease and how it is coped with
Prevention and rehabilitation
Basics and the present standing of prevention
Healthy living and promoting a healthy lifestyle 
Basics of rehabilitation
Rehabilitation facilities and their staff
Medical, professional and social rehabilitation
Rehabilitation planning and implementation as part of an interdisciplinary team
Concepts of exercise
Basics of exercise concepts 
Types of stress arising from exercise
Exercise structures and principles
Transfer of general concepts of exercise to prevention and medical rehabilitation
Psychological aspects of exercise
Movement concepts
Basics of diagnosis
Inspection
Functional checks
Palpation
Measurement techniques
Reflexes
Perception of acoustic irregularities
Systematics of diagnosis
Documentation
Making diagnoses
Creation of treatment plans
Physiotherapy assessment and examination techniques
Basics of diagnosis
Inspection
Functional checks
Palpation
Measurement techniques
Reflexes
Perception of acoustic irregularities
Systematics of diagnosis
Documentation
Making diagnoses
Creation of treatment plans
Treatment using physical therapy techniques
Basics of physical therapy techniques 
Respiratory therapy
Relaxation techniques
Physiotherapy using a sling suspension device
Physiotherapy using a hydrotherapy pool
Gait training
Manual therapy according to Kaltenborn, Sohier and McKenzie (MDT)
Functional analysis
Medical treatment using exercise and a practical course at the Dr Bientzle Health Centre in Sinzheim (Dr. Bientzle Gesundheitszentrum Sinzheim) and the mid-Baden Physiotherapy Centre in Rastatt (Physiotherapiezentrum Mittelbaden Rastatt)
Neurophysiological treatment methods

Proprioceptive neuromuscular facilitation stretching (PNF) taught by therapists specialised in this area
Treatment according to the Bobath concept taught by Bobath therapists, including Bobath treatment for children
Treatment according to the Vojta concept, taught by Vojta therapists
Other procedures

Psychomotor education
Other treatment techniques (traditional taping incl. a certificate)
Massage therapy
Basics of massage therapy
Techniques and effects of massage therapy
Classic massage
Connective tissue massage
Special forms (foot reflexology, manual lymphatic drainage therapy and complex decongestive therapy, taught by manual lymphatic drainage instructors)
Indications according to clinical characteristics, contraindications
Electro-, photo- and radiotherapy
Introduction to electrotherapy, physical principles
Introduction to electrodiagnostics
Electrotherapy with low, medium and high-frequency currents, therapeutic ultrasound(all commonly used devices are available)
Basics of phototherapy
Basics of radiotherapy
The school has a number of electrotherapy devices from the various common manufacturers
Hydro-, balneo-, thermo- and inhalation therapy
Basics of and applications used in hydro- and balneotherapy
Basics of and applications used in thermotherapy
Basics of and applications used in inhalation therapy
 The school has its own set of therapy baths
Methodical application of physiotherapy in the following medical fields
nternal medicine
Surgery/traumatology
Orthopaedics/traumatology
Gynaecology and obstetrics
Neurology/neurosurgery
Psychiatry
Paediatrics
Geriatrics
Rheumatology
Occupational medicine
Sports medicine
Other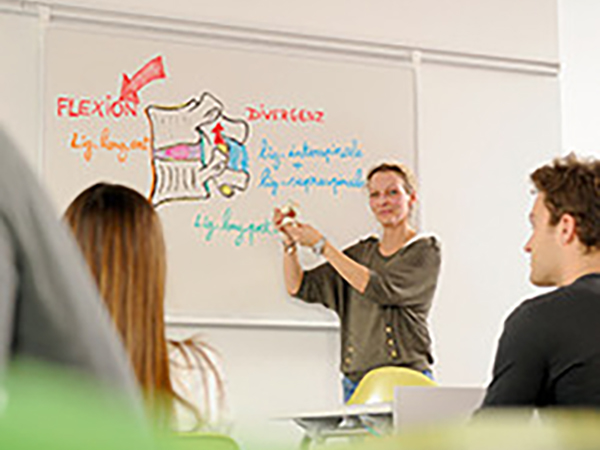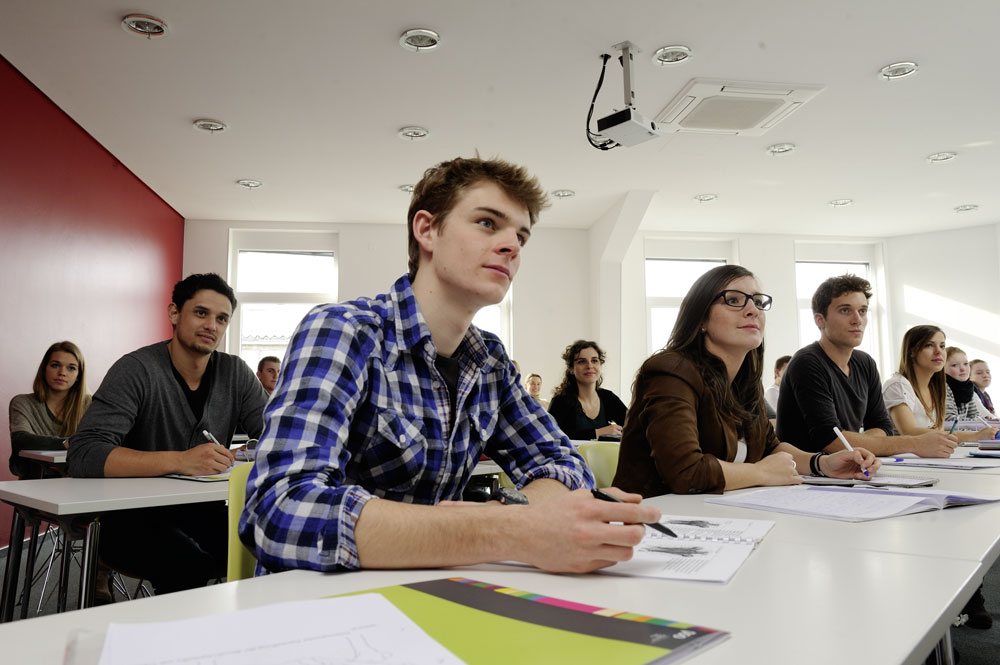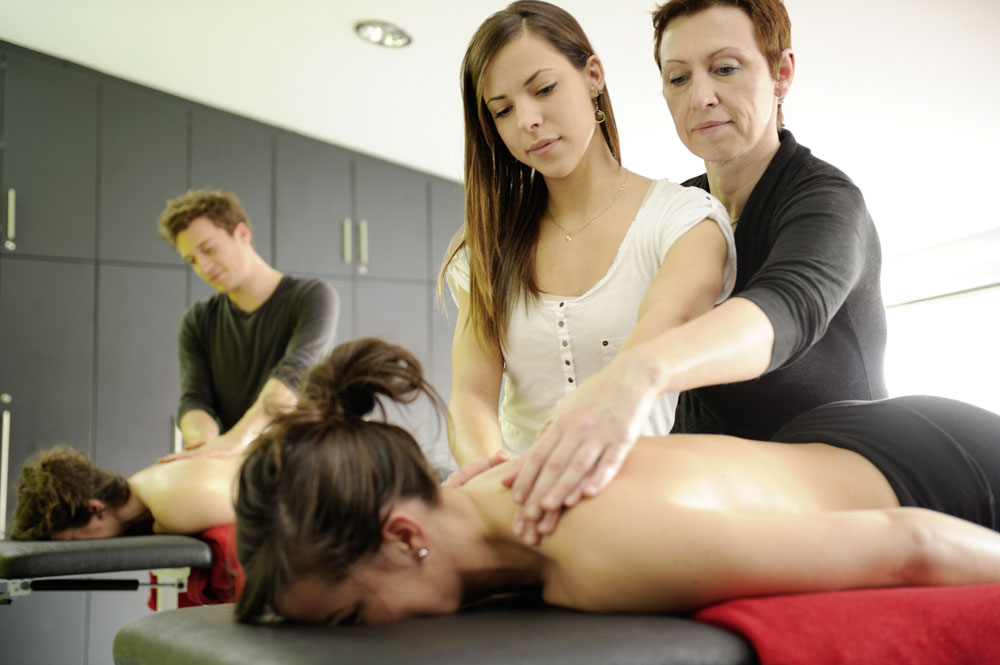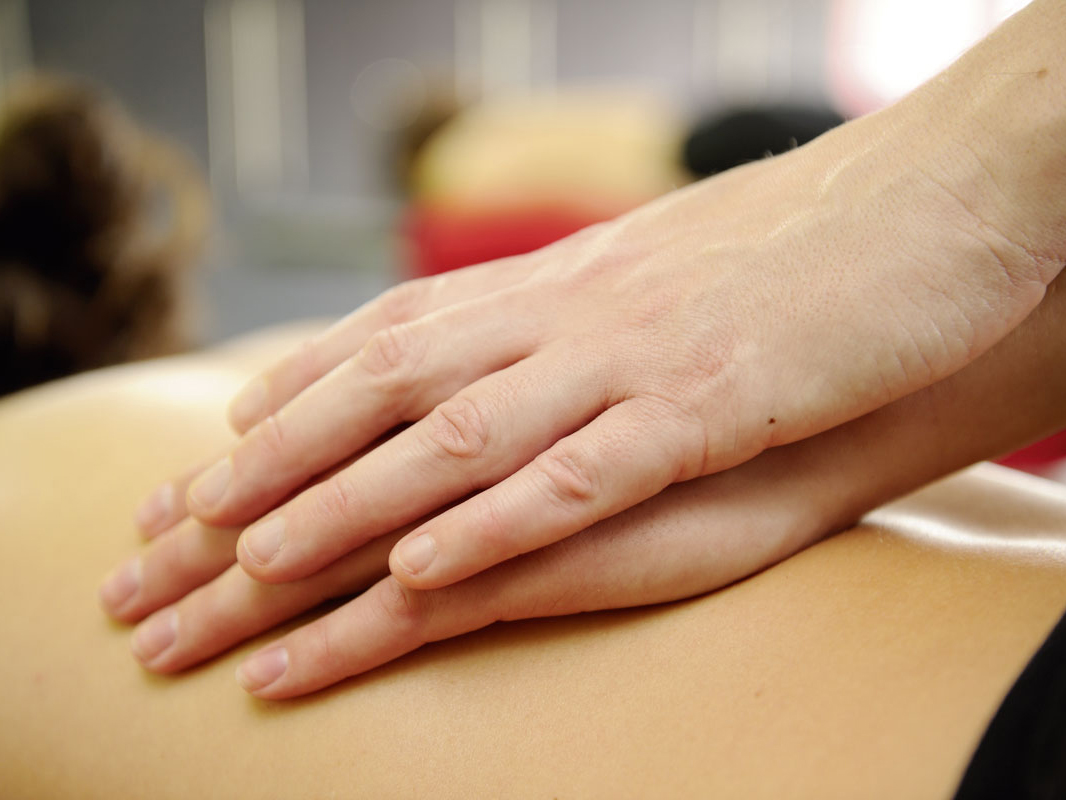 Training completed outside of the school
amounts to minimum 1,600 hours.
Practical training in hospitals or other suitable medical establishments specialising in various medical areas:
Surgery
Internal medicine
Orthopaedics
Neurology
Paediatrics
Psychiatry
Gynaecology
The work placements take place in selected establishments (offices, rehab centres, hospitals and rehab clinics) all over Germany and in neighbouring Alsace (France).
Following successful completion of the course in full, you will receive the professional title "Staatl. anerkannte/r Physiotherapeut/in" ("State-Approved Physiotherapist") (pursuant to the German occupational licensing regulation valid from 1st June 1994).